- Discussion:
    - dislocations of the elbow associated with fracture are termed complex;
    - comprimise 49% of elbow dislocations;
    - most of these fractures are inherently unstable and require surgery;
    - prolonged elbow immobilization produces poor results.
    - surgery must achieve sufficient stability to allow early ROM;
- Reduction:
    - when dislocation is assoc w/ fracture, first reduce dislocation;
    - gentle closed reduction of elbow is recommended, usually under GEA, w/ early return to protected motion.
    - repeated manipulations should be avoided;
    - transarticular pin fixation;
           - in some cases there will be persistent subluxation following closed reduction of unstable dislocations;
           - in these cases, consider temporary transarticular fixation with a threaded Steiman pin;
           - pins are directed through the olecranon process into the distal humerus, exiting through the posterior cortex;
           - typically, the arm is immobilized in a long arm cast for 3 weeks, before pin removal;
           - ref: Unstable elbow dislocations and fracture-dislocation: Temporary trans-articular fixation. KE Cramer. et al. (12th Annual
                        Meeting of the OTA);
 - Dislocation w/ Radial Head Frx
 - Dislocation + Medial Epicondyle Frx:
      - following closed reduction, the medial epicondyle fracture is classified with regard to displacement;
      - if it displaced < 5 mm and does not move w/ gentle valgus stress test, then continued closed treatment is indicated;
      - ORIF of frx is indicated for displacement > 10 mm, severe valgus instability (suggested by positiv gravity stress test),
             associated ulnar nerve symptoms, or incarceration of frag w/in ulnohumeral joint;
 - Dislocation + Coronoid Process Frx: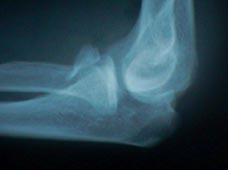 - frx is due to avulsion by brachialis when elbow is hyperextened; 
      - type I: avulsion of the tip of the coronoid process;
      - type II: involving less than 50% of the process 
           - for above types closed reduction and early motion is recommended;
      - type III: frag involving > 50% of process 
           - assoc w/ high redislocation rate & requires ORIF 
           - there may be an associated valgus instability since MCL inserts onto the fracture fragment; 
           - brachialis attaches to the coronoid and will be partially detached w/ low fractures;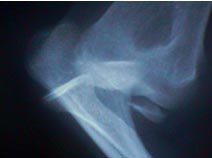 - reference:
           - Reconstruction of the coronoid process with a radial head fragment.  
           - Coronoid Process and Radial Head as Posterolateral Rotatory Stabilizers of the Elbow. 
- Terrible Triad: (dislocation, coronoid process fracture, and radial head fracture)
- Surgical Approaches:
      - Posterolateral Approach
      - Posterior approach:
      - hinged fixators
           - hinged fixator should always be considered with complex elbow dislocation, since it ensures early active ROM;
           - essential to achieve perfect concentric reduction of joint at the time of fixator application, since slight incongruity during the
                        postop period will not allow mobilization; 
           - ref: Good functional recovery of complex elbow dislocations treated with hinged external fixation: a multicenter prospective study.
- Complications:
    - proximal translation of radius (see Essex Lopresti Frx);
          - it is important to have adequate views of the wrist early on inorder to follow proximal radial translation later on;
    - heterotopic ossfication
          - whether or not all patients with complex elbow frx dislocations should receive prophylaxis is a matter of controversy
The lateral ligament is injured preferentially in posterolateral dislocation of the elbow joint. Correlation analysis with MRI between ligament injuries and associated fractures
Results of treatment of fracture-dislocations of the elbow.
Dislocations of the elbow and intraarticular fractures.
Current concepts review. Fracture-dislocation of the elbow. 
Standard Surgical Protocol to Treat Elbow Dislocations with Radial Head and Coronoid Fractures.
Management of acute complex instability of the elbow with hinged external fixation.
Radial Nerve Disruption Following Application of a Hinged Elbow External Fixator. A Report of Three Cases
Complications of Hinged External Fixation Compared With Cross-pinning of the Elbow for Acute and Subacute Instability
---