The meniscus is a vital component of the knee. Its function is to transmit load over as wide an area as possible between the femur and tibia. From the advent of arthroscopic techniques, the meniscus has often been the site of surgical intervention. Unfortunately most of this historic effort has been in performing meniscectomy or partial meniscectomy.

As arthroscopic ability improved and the industry developed devices to help surgeons, then preservation surgery became more prevalent, although meniscal repair unfortunately is still less common than partial meniscectomy.

However when the meniscus is sufficiently degenerate to the extent that a repair will not hold, then there is still a role for partial and even sub-total meniscectomy to remove unstable meniscal tissue. It must be stressed though, that the vast majority of degenerative meniscal tears can safely be managed non-operatively.

The meniscus degenerates as part of the degenerative process in arthritis. Consequently there are often incidental diagnoses made of meniscal 'tears' on MRI which really represent the start of arthritis.

There has been much controversy about the role of arthroscopic meniscectomy. On one side the proponents of non-operative management saying there is no role for arthroscopic meniscectomy for the degenerate meniscus, whereas there have been two sets of guidelines (ESSKA and BASK) developed from experienced user groups, with Delphi Consensus principles,  to target the appropriate use of arthroscopic techniques in selected cases.

The BASK guidelines dissuade surgeons from performing arthroscopic surgery on degenerative menisci in 'arthritic knees', but promote urgent arthroscopic assessment for locked knees ideally repairing the meniscus. The BASK guidelines also describe the concept of the 'target lesion' which represents a specific flap of meniscal tear which is perceived to be the site of mechanical symptoms and pain. This is particularly relevant for tears extruded into the medial gutter lying underneath the meniscus.

On the opposite side of the fence where Physiotherapy or off-loader bracing should be the main weapon is the degenerate complex tear with maceration of the meniscal tissue and no discrete flap tear.

This technique describes my technique for partial meniscectomy; this represents less than half of the arthroscopic meniscal procedures I perform.

It is also vital to remember that in a degenerative meniscal lesion, appropriate non-operative management should be attempted prior to surgical intervention, once the decision has been made that this is not a repairable tear. Sometimes there is a role for steroid injection, be that ultrasound-guided, direct intra-articular or palpation-directed peri-articular at the site of maximal tenderness.

The two key papers related to this giving practical guidelines are listed below, but please also look at the Results section for more key papers on Meniscectomy:

Arthroscopic meniscal surgery: a national society treatment guideline and consensus statement.

Abram SGF, Beard DJ, Price AJ; BASK Meniscal Working Group.

Bone Joint J. 2019 Jun;101-B(6):652-659. doi: 10.1302/0301-620X.101B6.BJJ-2019-0126.R1.

PMID: 31154847

The Knee Meniscus: Management of Traumatic Tears and Degenerative Lesions

Philippe Beaufils, Roland Becker, Sebastian Kopf, Ollivier Matthieu, Nicolas Pujol

EFORT Open Reviews

2017 May 11;2(5):195-203.  doi: 10.1302/2058-5241.2.160056. eCollection 2017 May.

PMID: 28698804  PMCID: PMC5489759  DOI: 10.1302/2058-5241.2.160056

Readers will find the following OrthOracle techniques also of interest:

Arthroscopic lateral meniscal repair with fibrin clot and bone marrow aspirate -Smith and Nephew Fast Fix 360 system.

Meniscal repair using Smith and Nephew fast-fix 360 system and knee arthroscopy

Trans-tibial meniscal root repair using Smith and Nephew Firstpass mini

This overview is brought to you by Orthoracle - the online e-learning Orthopeadic Surgery Atlas
---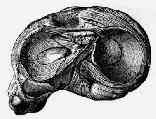 - Discussion:
- semilunar cartilages are extensions of tibial articulation of knee;
- w/o menisci, tibial articulation is incongruous with the femur;
- microscopic features
- vascular anatomy
- anatomy:
- medial meniscus
- bucket handle meniscus tear
- posterior horn tears of medial meniscus
- lateral meniscus
- discoid meniscus
- ref: A Quantitative Study of the Microstructure and Biochemistry of the Medial Meniscal Horn Attachments
- load bearing function:
- menisci distribute forces throughout underlying articular cartilage, thus minimizing point contact;
- menisci bear 40 to 50% of the total load transmitted across joint in extension and 85% of the compressive load
is transmitted through the menisci at 90 deg of flexion;
- motion characteristics:
- meniscal motion allows maximal congruency during knee flexion and helps to protect the mensici from injury;
- in the study by Vedi V, et al (1999), meniscal movement was studied using a dynamic MRI:
- w/ wt bearing, anterior horn of medial meniscus moved through a mean of 7.1 mm and posterior horn through 3.9 mm, and
there was 3.6 mm of mediolateral radial displacement;
- w/ wt bearing, the anterior horn of the lateral meniscus moves 9.5 mm and the posterior horn moves 5.6 mm, and there was
3.7 mm of radial displacement;
- authors felt that relative immobility of the posterior horn of the medial mensicus may account for its propensity for injury;
- while secondary stabilizer, menisci do impart some stability to normal knee and more important to the ligament deficient knee;
- each is attached at its periphery to capsular ligament on medial or lateral side of joint & at its horns to interarticular area of tibia;
- connecting menisci anteriorly is the transverse ligament.
- menisci help compensate for incongruence of the bones, and they appear to be involved in rotation by moving on the tibia;
- as result of sufficient stress (usually rotary in wt-bearing, flexed knee), either meniscus may be torn w/in itself or from its
peripheral attachment;
    - ref: Meniscal movement. An in-vivo study using dynamic MRI.

- MRI Features:
- Precision in the diagnosis of meniscal lesions: a comparison of clinical evaluation, arthrography, and arthroscopy.
- Magnetic resonance imaging of a symptomatic meniscal ossicle.
---
Arthroscopic partial meniscectomy is a commonly performed procedure. In recent years a clearer understanding of the success of meniscectomy in the degenerative knee has reduced its popularity, as non-operative treatment may result in greater patient satisfaction. However there is still strong evidence for its use for acute and/or unstable tears.

Tears in the non-vascular "white-on-white" zone are not amenable to meniscal repair (see separate presentation) and therefore may require conservative debridement back to healthy stable meniscal tissue.

The surgery is performed with the use of a combination of handheld instruments such as punches, shavers and more recently radio-frequency ablation.

The detail in this technique in terms of the mechanics of performing a knee arthroscopy is complementary to knee arthroscopy also detailed on OrthOracle.

The various OrthOracle techniques detailing techniques of meniscal repair can also be usefully read in conjunction with this technique: Trans-tibial meniscal root repair using Smith and Nephew Firstpass mini and Meniscal repair using Smith & Nephew fast-fix 360 system & knee arthroscopy.

This overview is brought to you by Orthoracle - the online e-learning Orthopeadic Surgery Atlas
- Management of Meniscus Tears:
- Meniscal Repairs
              - ref: The Effect of Knee Flexion Angle on Neurovascular Safety of All-Inside Lateral Meniscus Repair: A Cadaveric Study
- Menisectomy:
              - references:
- Dynamic Contact Mechanics of the Medial Meniscus as a Function of Radial Tear, Repair, and Partial Meniscectomy
- A long-term follow-up study of total meniscectomy in children.
- Partial versus total meniscectomy. A prospective, randomised study with long-term follow-up.
- Arthroscopic treatment of meniscal cysts.
- Lesions of the menisci. Autopsy incidence in adults less than fifty-five years old.
- Total meniscectomy in adolescents. A 40-year follow-up

---
The knee joint meniscus. A fibrocartilage of some distinction.
---