- Discussion: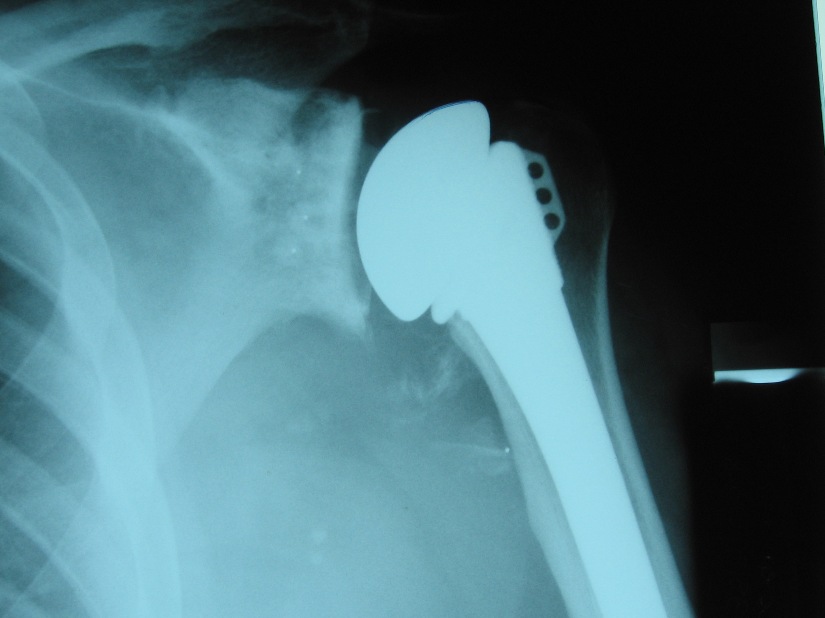 - see
shoulder replacement discussion
(total shoulder vs hemiarthroplasty
vs
reverse arthroplasty
)
    - the indications for total shoulder arthroplasty (versus
hemiarthroplasty
) are controversial;
           - there is some controversy regarding pain relief and component survivorship;
           -
Gartsman GM, et al
(2000), the authors compared hemiarthroplasty (24 shoulders) to TSR (27 shoulders);
                  - mean followup was 35 years;
                  - they noted significantly better pain relief and better internal rotation with total shoulder replacement;
                  - there was a trend for better patient satisfaction, function, and strength in TSR group; 
           -
non concentric glenoid
: 
                  - non-concentric glenoid (ie posterior glenoid erosion) is a clear indication for glenoid resurfacing, since a congruent joint
                             is necessary for optimal function; 
    - references: 
           -
A comparison of pain, strength, range of motion, and functional outcomes after hemiarthroplasty and total shoulder arthroplasty in patients with osteoarthritis of the shoulder. A systematic review and meta-analysis.
           -
Shoulder Arthroplasty with or without Resurfacing of the Glenoid in Patients Who Have Osteoarthritis
           -
Recentering the Humeral Head for Glenoid Deficiency in Total Shoulder Arthroplasty
.
           -
Secondary rotator cuff dysfunction following total shoulder arthroplasty for primary glenohumeral osteoarthritis: results of a multicenter study with more than five years of follow-up.
- Exam:
     - note the degree both preoperatively and postoperatively of scapulothoracic to glenohumeral motion;
     - as noted by
Friedman RJ
 (1997), patients with DJD of the shoulder reverse the normal 1:2 ratio of
            scapulothoracic to glenohumeral motion ratio (this is not changed w/ arthroplasty);
     - excessive external rotation:
            - may indicated deficiency of subscapularis in which case, subscapularis can be augmented w/ an
                      Achilles tendon allograft;
     - restricted external rotation:
            - may indicated severe wear of the posterior glenoid, in which case the glenoid may have to be
                       reamed to a more neutral version;
     - reference
             -
Prospective analysis of total shoulder arthroplasty biomechanics
.

- Radiographs:
    - note the relation of the tuberosity and the humeral head (optimal to reproduce the vertical offset)
    -
axillary view
- Surgical Technique:
    - surgical exposure
    - humeral preparation
    - glenoid component
    - trial reduction 
    - management of subscapularis - repair
- Post Op Care:
         The position of sling immobilization influences the outcomes of anatomic total shoulder arthroplasty: a randomized, single-blind, prospective study.
                  blind, prospective study.
- references:
- Influence of Preoperative Factors on Outcome of Shoulder Arthroplasty for Glenohumeral Osteoarthritis
- A comparison of hemiarthroplasty and total shoulder arthroplasty in the treatment of primary glenohumeral osteoarthritis: results of a multicenter study.
- A prospective functional outcome study of shoulder arthroplasty for osteoarthritis with an intact rotator cuff.
- Conversion of painful hemiarthroplasty to total shoulder arthroplasty: Long-term results
- Quality-of-life outcome following hemiarthroplasty or total shoulder arthroplasty in patients with osteoarthritis. A prospective, randomized trial.
- AAOS: Guidelines on the Treatment of OA
- Bilateral Anatomic Total Shoulder Arthroplasty Versus Reverse Shoulder Arthroplasty
---