---
                                                                                                                             Assistance provided by Nanni Allington MD.
- Discussion:
    - a membrane lined cavity containing a clear yellow fluid.
    - occurrs most often in children 4-10 years of age;
    - lesions remain asymptomatic unless complicated by fracture.
    - they enlarge during skeletal growth and become inactive, or latent, after skeletal maturity.
    -
active cysts:
         - develop in patients under 10 years of age;
         - cyst arises adjacent to growth plate & may grow to fill most of metaphysis;
         - bone may be slightly expanded w/ thin cortical shell;
         - it will continue to enlarge during observation;
         - may cause pathologic fracture;
    -
passive cysts:
         - patients are usually over 12 years of age;
         - cysts cease to expand;
         - become increasingly separated from growth plate (more than 1-2 cm);
         - have thicker bony wall than active lesions;
         - may show evidence of healing or ossification
         - less likely to result in frx;
---
- Location:
    - lesion appears to arise from the growth plate & in early stages, lesion is lies adjacent to growth plate;
          - typically the simple bone cyst will have a central location, whereas an
ABC
will have a slightly eccentric location;
    - predilection for the metaphysis of long bones;


    -
proximal humerus
(50% of cases)
    -
proximal tibia
;
    -
proximal femur
(40%)
    - foot:            
          - ref: Clinical Relevance of Calcaneal Bone Cysts: A Study of 50 Cysts in 47 Patients. 
---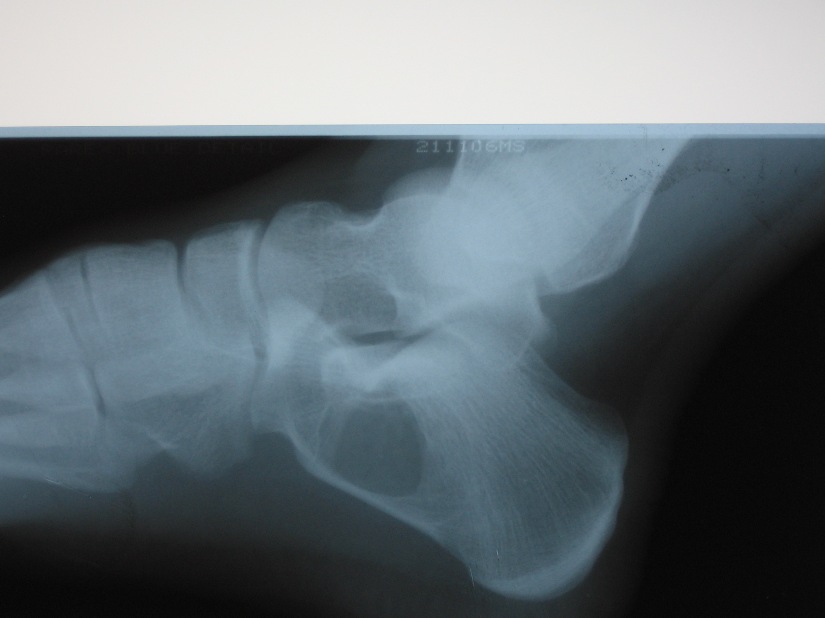 - Radiographs: 
    - show a central, well marginated & symmetric
radiolucent
defect in metaphysis;
    - usually no bony separations or loculations;
    - may appear to have a slightly ballooned w/in the metaphysis;
    - metaphyseal bone does not remodel normally, & metaphysis is broader than normally seen but not
             broader than with width of
epiphyseal plate
;
    - thin rim of non reative bone borders the unicameral bone cyst;
    - when cyst becomes latent, epiphysis grows away from the lesion;
    -
diff dx:
          -
fibrous dysplasia
;
                - monostotic fibrous dysplasia is usually eccentric rather than central and diaphyseal rather than metaphyseal;
                - periosteal reaction is greater in fibrous dysplasia than simple bone cyst;
          -
aneurysmal bone cyst
;
                - metaphysis is expanded, with marked cortical thinning that predisposes to fracture;
                - enlarge metaphysis to greater than width of the epiphyseal plate;
---
- Histologic Examination:
    - active cyst have a mesothelial membrane lining thin margin of bone;
    - inner wall of bone adjacent to membrane may be lined by osteoclasts;
    - between membrane & osteoclasts is a layer of areolar tissue containing fibroblastic and multinucleated giant cells;
---
Treatment:
    - goal of treatment is prevention of
pathologic
fracture;
          - conventional teaching is that the cyst will heal and resolve if a fracture occurs thru the cyst;
          - this has been called into question w/ some estimates that cyst healing occurs in less than 10% fractures;
    - simple cysts are treated with curettage and bone grafting;
    - recurrence is high for active cysts (50%) & low for latent cysts (10%);
    - alternative treatments:
          -
steroids:
                  - 80-200 mg of
methylprednisolone
infused into cavity;
                  -
Hashemi-Nejad A and Cole WG
, 32 patients with unicameral cysts received multiple intralesional steroid injections;
                         - earliest time to healing was 3 months;
                         - at median review of 5 years, 13% of cysts had healed, 62% were paritally visible but sclerotic, 12.5% were
                                   visible but opaque, and 12.5% were clearly visible;
                         - healing response to intralesional steroids was unpredictable and was incomplete even after multiple injections;
                         - failure in wt bearing bones was high;
                         - authors questioned whether the results of the treatment were a result from multiple drill holes rather from the steroid;
                  - references:
                         -
Incomplete healing of simple bone cysts after steroid injections
. 
                         -
Simple bone cysts. The effects of methylprednisolone on synovial cells in culture
.
          -
autologous bone marrow injection:
                  - reference:
                         -
Simple bone cysts treated by percutaneous autologous marrow grafting. A preliminary report.
          -
multiple drill holes:
                  - references:
                         -
Simple bone cysts treated by multiple drill holes: 23 cysts followed 2-10 years
. 
                         -
Radiological evidence of healing  of a simple bone cyst after hole drilling
. 
---
Solitary unicameral bone cyst: treatment with freeze-dried crushed cortical-bone allograft. A review of one hundred and forty-four cases
.
---