- See:
Rotator Cuff Tear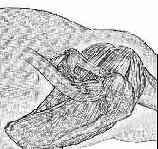 - Discussion:
     - deposits lie in the rotator cuff and contain H[2O, CO[3, & PO[4];
     - usually does not occur until 4 th decade;
     - diabetic patients are more likely to develop asymptomatic rotator cuff calcium deposits;
            - > 30% of insulin-dependent diabetics had tendon calcification where as < 10% of nondiabetics have this lesion;
     - classification:
            - may be divided into acute & chronic phases;
            - type I: calcific nodule has sharply defined edges;
            - type II: mixture of cloudy and sharp edges;
            - type III: cloudy edges and somewhat transparent;
- Indications for Treatment:
    - in most cases, clinical symptoms will resolve spontaneously in 7-10 days (where as the deposit may persist on radiographs);
    - w/ prolonged symptoms, consider cortisone injection, needling, or arthroscopic calcium excision;
    - type II may respond best to puncture aspiration;
- Flouroscopic Aspiration:
    - under flouroscopic visualization needle is inserted into the deposit;
    - confirmation of needle placement is established, when needle remains in deposit as arm is internally and externally rotated;
    - lesion is alternatively injected w/ lidocaine and subsequently aspirated;
- Shoulder Arthroscopy:
    - calcified lesion may lie within the tendon which does not allow its visualization in the  subacromial space;
           - in this case flouroscopy may be used to help identify the lesion (using a needle), and then the arthroscopic shaver can be
                   used to gently sweep away the overlying bursa which should allow exposure of the lesion
---
Are the Symptoms of Calcific Tendinitis Due to Neoinnervation and/or Neovascularization
?
Arthroscopic treatment of calcific tendinitis of the shoulder.   
Calcific tendonitis of the shoulder: is subacromial decompression in combination with removal of the calcific deposit beneficial?
---