- See: TKR Menu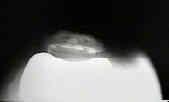 - Discussion:
- anatomy / q angle
- blood supply to the knee
- indications for patellar resurfacing
- design and function of the patellar component in TKR:
           - effects of component rotation
- Patellar Resurfacing: (technique)
- indications for patellar resurfacing
- lateral retinacular release:
- Non Resurfaced Patella Considerations:

- Complications:
- patellar malposition: (see malposition of the joint line)
- patella alta after TKR:
- requires lateral retinacular release, shortening of the patellar ligament, and revision of the patellar implant if necessary;
- patellar baja:
- femoral component position is essential to avoid patella baja;
- keep inferior pole of the prosthetic patella placed 1-3 cm above the prosthetic joint line, and at 90 deg of flexion there
should be a finger breadth of space between patella and liner;
- if femoral component is placed to far anteriorly or is undersized in AP dimension, a large flexion gap is created (w/
resultant flexion instability);
- in order to balance the collateral ligaaments of knee in extension, more bone needs to be resected from the distal femur;
- this in turn results in use of thicker tibial component, raising the joint line and lowering the patellar height;
- references:
- Patella baja after total knee arthroplasty: is it really patella baja?
- Patella baja and total knee arthroplasty (TKA): etiology, diagnosis, and management.
- Case Reports: Patellar Impingement Against the Tibial Component after Total Knee Arthroplasty.
- Bone anatomy and rotational alignment in total knee arthroplasty.
- fractures of the patella and patellar component:
- patellar fibrosis and patellar clunk syndrome
- subluxation of patella:
- tibial prosthesis:
- it is essential to keep the tibial prosthesis placed at or posterior to the center of the tibial plateau (reestablishes the
quadriceps lever arm);
- rotation of the tibial component: it is essential to avoid internal rotation of this component;
- reference:
- Patellar tracking after total knee arthroplasty. The effect of tibial tray malrotation and articular surface configuration.
- The influence of tibial-patellofemoral location on function of the knee in patients with the posterior stabilized condylar knee prosthesis.
- Revision of Patellar Component
- Patellectomy in TKR:
- patellectomy leads up to 40% decrease in quadriceps muscle function;
- patients who have had a previous patellectomy have been at risk for A-P instability w/ use of a posterior stabilized prosthesis;
- this was a reported complication of the total condylar I prosthesis;
- A-P instability does not seem to be as prevalent w/ newer posterior stabilized designs which have improved femoral roll back
during flexion;
- as noted by Paletta et al (1995), posterior stabilized components faired significantly better than PCL retaining components (for
both pain and function);
- these authors surmised that w/o the patella, the PCL will tend to stretch over time (since it alone prevents posterior
translation), which then leads to AP instability (50% of patients), recurvatum (20%), and loss of full active extension
(30% of patients);
- references:
- Total knee arthroplasty in patients after patellectomy.
- Total knee arthroplasty following patellectomy.
- Primary total knee arthroplasty after patellectomy.
- Total knee arthroplasty after a previous patellectomy.
- Patellectomy after total knee arthroplasty.
Current Concepts Review.  The Patellofemoral Joint in Total Knee Arthroplasty.
The effect of patella resurfacing in total knee arthroplasty on functional range of movement measured by flexible electrogoniometry.
A comedy of errors: the bad knee.

Failure mechanisms of metal-backed patellar components.
Further observations on metal-backed patellar component failure.
Porous coated metal backed patellar componentes in total knee replacement.  A postmortem retrieval analysis.
---
---