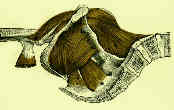 - Discussion:
    - both column frxs separate the roof from the iliac wing or sacroiliac joint (no articular segment remains
             attached to a segment of the iliac wing or SI joint);
- Radiology;
   - The Spur Sign
   - Both Column Frx
 
- Operative Rx:
     - indicated only for fractures w/ apparent congruence of both columns;
- Surgical Approach:
    - two-column frxs may require more extensive exposure than that afforded by either ilioinguinal or         
           posterolateral approach alone;
    - ilioinguinal approach is used most often;
    - iliofemoral approach is used for both column frx which occur in the presence of frx extension into the SI joint, wide separation of the
            columns, or w/ complex posterior column injuries;
            - consider extended ilioinguinal approach, or extended iliofemoral approach;
            - latter is preferable when there is complex posterior column Frx or when frx lines cross sacroiliac joint;
    - Kocher Langenbach approach can be used if combined with the middle window of the ilioinguinal approach;
    - anterior column is reduced and fixed to the ilium;
    - posterior column is then reduced & fixed, using interfragmentary lag screws and reconstruction or buttress plates
---
Operative treatment of complex acetabular fractures. Combined anterior and posterior exposures during the same procedure
.   
Non-extensive surgical approaches for two column acetabular fractures.   
The extended ilioinguinal approach for specific both column fractures. 
Entrapment of the External Iliac Vein in a Both-Column Acetabular Fracture.
---