---
- See: 
Total Hip Replacement Menu
:
---
- Technical Considerations for the Acetabulum:

    -
acetabular component menu
: 
    - anatomy:
           -
How Are Dysplastic Hips Different? A Three-dimensional CT Study
    -
cotyloplasty technique / medial protrusio technique:
    -
bone grafting for THR
:
           - autogenous femoral head grafting for anterolateral acetabular deficiency:
                 -
Spangehl et al
: 44 hips in 35 patients w/ DDH were treated w/ THR with press fit cup fixed with screws
                          and femoral head graft; 
                          - 4 acetabular components were revised: 2 due to polyethylene wear & 1 due to aseptic loosening,
                                     1 due tobecause frx of acetabular shell;
                          - 43 of the 44 hips had no radiographic evidence of resorption of the graft or had radiographic
                                     evidence of resorption limited to the nonstressed area of the graft lateral to the edge of the cup;
                 - references:
                        -
Uncemented acetabular components with bulk femoral head autograft for acetabular reconstruction in developmental dysplasia of the hip: results at five to twelve years.
                        -
Total hip replacement with the CLS expansion shell and a structural femoral head autograft for patients with congenital hip disease.
                        -
Total hip arthroplasty with cement and without acetabular bone graft for severe hip dysplasia. A concise follow-up, at a minimum of twenty years, of a previous report
                        -
Femoral head autografting with total hip arthroplasty for lateral acetabular dysplasia. A 12-year experience
. 
                        -
Autogenous bone grafts from the femoral head for the treatment of acetabular deficiency in primary total hip arthroplasty with cement, long-term results
. 
---
- Technical Considerations of the Femur in DDH: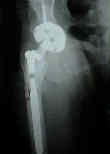 - significant anteversion of the femoral neck;
           - w/ more than 40 deg of anteversion, consider derotation with subtrochanteric osteotomy;
    - femoral medullary canal is narrow;
           - this may be managed by splitting the proximal 8-10 cm of the femoral shaft both anteriorly and
                   posteriorly and then establishing rigid fixation after the stem has been inserted;
    - medullary canal may be distorted from previous osteotomies (in which case a subtrochanteric
                   osteotomy may be required);
    - short femoral neck;
    - distorsion of proximal femoral shape from previous osteotomies;
    -
leg length descrepancy:
           - significant leg length descrepancy is seen in high dislocations;
           - attempts at leg length equalization may result in sciatic neuropraxia;
           - as pointed out by, Kavanagh et al 1991, no patients that had leg lengthing of less than 4 cm developed a palsy;  
                   - when lengthening was more than 4 cm, 28% of patients developed a
sciatic nerve palsy
;
           - ref:
Predicting leg-length change after total hip arthroplasty by measuring preoperative hip flexion under general anaesthesia
.
    -
femoral shortening
           - may be performed by proximal shortening or by subtroch osteotomy (step cut or oblique subtrochanteric osteotomy);
           - proximal shortening is not be performed distal to the lesser trochanter because there is not be enough of a
                   metaphyseal flare left to support the femoral implant; 
           - references:
                   -
Total hip arthroplasty with shortening subtrochanteric osteotomy in Crowe type-IV developmental dysplasia: surgical technique.
                   - 
Double-chevron subtrochanteric shortening derotational femoral osteotomy combined with total hip arthroplasty for the treatment of complete congenital dislocation of the hip in the adult. Preliminary report and description of a new surgical technique.
                   -
Total Hip Arthroplasty With Shortening Osteotomy in Congenital Major Hip Dislocation Sequelae
                   -
Subtrochanteric shortening osteotomy combined with cemented total hip arthroplasty for Crowe group IV hips

                   -
Transverse Subtrochanteric Shortening Osteotomy During Cementless Total Hip Arthroplasty in Crowe Type-III or IV Developmental Dysplasia
    - trochanteric osteotomy:

           - ref:
Trochanteric osteotomy in total hip replacement for congenital hip disease
---






---
Coxarthrosis after congenital dysplasia. Treatment by total hip arthroplasty without acetabular bone-grafting
.
---